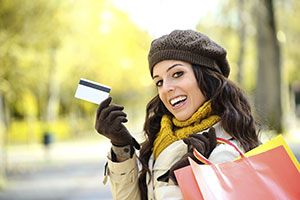 Forget about paper gift certificates and enter the digital world by accepting gift cards at your Santa Rosa business. Gift cards offer convenient, portable, and practically indestructible methods of payment that certificates just can't match. Industry trends have gone the way of the gift card for years, and it's time you join in on the fun! It's easy to add customized gift card acceptance to your payment processing services. Bay Cities Payments provides everything you need to accept gift cards at your place of business, including the cards themselves.
Along with gift cards, you can also offer customer loyalty programs, providing your customers with the incentive to continue doing business with you. Discounts, special offers, or club deals will all drive your business further. Both the gift cards and loyalty cards have magnetic strips, able to be simply swiped during the transaction while retaining important data that you don't have to search for.
A variety of gift cards and applicable merchant payment services from Bay Cities Payments will have Santa Rosa residents spending more and shopping easily in your store. Cards are also reloadable for continued use and quick payments. Customer loyalty programs can bring the repeat business that you've been seeking and gift cards often go unspent, leaving you with pure profit. There are many advantages to this small investment.
If you're ready to make the convenience of gift cards part of your business, contact a local Santa Rosa payment services company. Bay Cities Payments is proud to be the area's foremost authority on payment processing and all the services you'll need to offer discount programs and gift cards to your clients and customers.